Name not pronounced 'see-air-a' like the Goodies singer. Sucker for an oversized jacket. Likes a pub.
You can always trust Gucci to provide the fun in fashion, but their latest autumn winter 2017 campaign brings the bonkers to a whole new level. Aliens, anyone?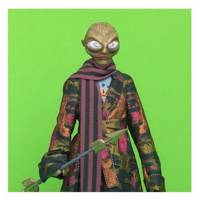 Instagram / Gucci
Models in our favourite campaigns are usually beautiful, aspirational creatures so the casting of intergalactic beings for Gucci's latest campaign is a curveball at best.
ADVERTISEMENT
In a series of videos posted to the brand's Instagram, the new cast come in all different shapes and sizes.
The creatures come with bios, including their name, age, home planet and a quote. Our friend above says: "Garrrrgggghhhhh. Why must I ALWAYS be the one to rescue these visitors who get out of their depths?" We feel ya, dude. And of course they're all decked out in Gucci...
ADVERTISEMENT
ADVERTISEMENT
Do aliens make us want to wear Gucci? YES, tbh.